Wondering why the number of listens isn't going up? Maybe you need to focus on audience engagement to boost your podcast downloads! In this episode I'm going to help you to create a plan to increase listens per episode, and some actionable steps to implement right away!
Before I get into the content, I wanted to share an amazing listener review from Kar. C who said, "The BEST Podcast Tips! Emily's podcasting tips are legit! She has a resource for just about everything you'd want to know. Her podcast is packed with so much value that if you're thinking about starting your own podcast and you DON'T subscribe, you're doing yourself (and your upcoming podcast) a disservice."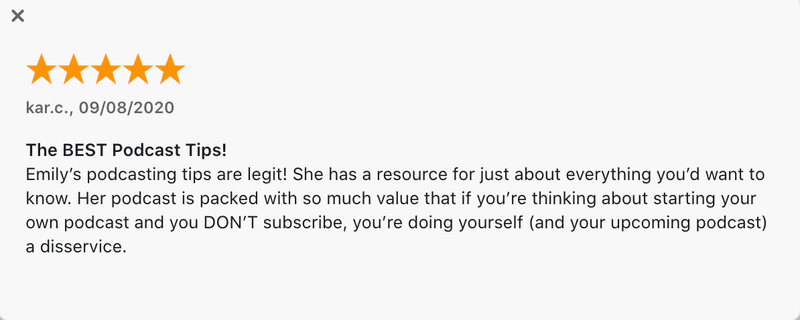 I'd love to hear from you! Share your thoughts on Apple Podcasts by leaving me a star rating and written review and I might just share it out on the pod!
Listener reviews
Without a doubt listener reviews are the easiest way to increase audience engagement. Not only is it super simple for your listeners to leave a written review, it's also super simple for you to record yourself reading a whole bunch of them, and then add one per episode, thanking your listeners for the review by name!
This strategy also worked really well for my partner Justin Decloux on his podcast The Important Cinema Club. As he was growing his Patreon subscriber base (Patreon is a subscription crowdfunding platform where people can donate a dollar amount per month for extra perks) he thanked new Patreon subscribers as they joined. Hearing other people's names being read out on the show prompted more subscribers to join – because there's nothing like hearing your favourite podcaster talking about you and thanking you!
To get more listener reviews, always ask at the beginning and end of each episode, honestly wherever you possibly can. People forget! Reminding them is helpful. You can also run contests. I did this at the start of the month! Give your listeners a timeframe (usually one week) to leave a written review on Apple Podcasts and then draw a name at random to win a prize! The prize could be a gift card or access to an offer you provide, really anything that would benefit your listeners!
Create a community
It's not enough to just post on social media and disappear. You need to create a community of engaged followers. Kirsten Jorden lays it all out clearly for you in episode 30 of Ultimate Podcast Marketing – it's all about creating value for your community, talking to them on social media, and sharing your podcast as a resource for them.
Other ways to cultivate your social media community to get more downloads on your podcast would be to respond to comments on new episode drops when you post about them – don't ignore people! You can also make note of the people who are commenting/liking/viewing your content and make a point to comment on their posts and start conversations with them. Community baby!
Do a collab with another podcaster that shares a similar audience. For example, Kirsten Jordan and I could do a collab on content strategy, my angle would be podcasting, hers would be social media. Then, we can both use the recording to share in our own feeds.
Then, go live on Instagram to promote the episode! This gives you and your podcaster pal an opportunity to answer questions for each other's audience, and grow your reach together, it's a win-win!
Do an audience survey
This is a classic marketing technique and one that I think a lot of people shy away from – for whatever reason, market research surveys get a bad rap. But how else can you truly determine what your audience wants?
Share out your survey over the course of a week to collect as many responses as possible. Do this at least once a year, or once every 6 months to make sure you're keeping up with your listener's preferences. Here are some questions to include:
What do you like about the show?
What would you like to hear more of on the show?
What would you like to hear less of on the show?
Approximately how long do you prefer podcast episodes to be? (i.e. 15 min, 30 min, 4 hours)
When do you listen to your podcasts? (i.e. As I work, during exercise, during chores etc.)
Respond to messages
This goes without saying but it's SO important to respond to your listeners! Whether it's on a social post, via DM or if they reply to an email you sent out promoting the episode, always make sure to reply to them and thank them for listening.
You can also encourage them to send you messages. Lots of podcasts use this technique! Ask listeners to send you an email to a designated email address so that you can read it out on the podcast. Again, it's so powerful to hear your favourite podcasters reading your own words! So why not?
You can also ask listeners to send in voice recordings to ask their questions, or even to leave you a voicemail! Then, respond live to it in an episode. And hey, guess what! That's what I'm asking you to do today! I want to learn more about your podcasting challenges, so send me a voice memo recording with your question, and I'll feature it on an upcoming episode of Ultimate Podcast Marketing!
Highlights:
1:10 – Listener Review
2:05 – Using listener reviews to boost audience engagement
03:43 – Create a community http://theultimatecreative.com/perfectly-imperfect-social-media-with-kirsten-jordan/
04:45 – Collab with other podcasters
05:29 – Audience surveys
07:36 – Responding to listener messages
08:40 – Send me a voice memo and ask me anything about podcasting!
Links mentioned in this episode: