Ok, pal! We're going to set your 2021 podcast goals right here right now! And if you want a further look at how to do this, I definitely recommend listening to episode 38 of Ultimate Podcast Marketing for a complete strategic review exercise.
Let's jump in!
1. Define Success
Everyone has a different idea of success, which means measuring your success against someone else's will only set you up for disappointment. I'm often asked what a "good number" is for downloads/listens/streams (which by the way are all the exact same thing). The truth is, the only numbers that matter are your own.
If you want to compare yourself to the chart-topping podcasts, be my guest. But until you have as many years as they do under your belt with podcasting (or the same size audience) it just doesn't make sense. You WILL accomplish your goals if your definition of success matches what you truly want to accomplish in life, and if you're realistic about the time and effort it will take to get there.
So before you do anything else, first clearly identify what success looks like for your podcast in 2021.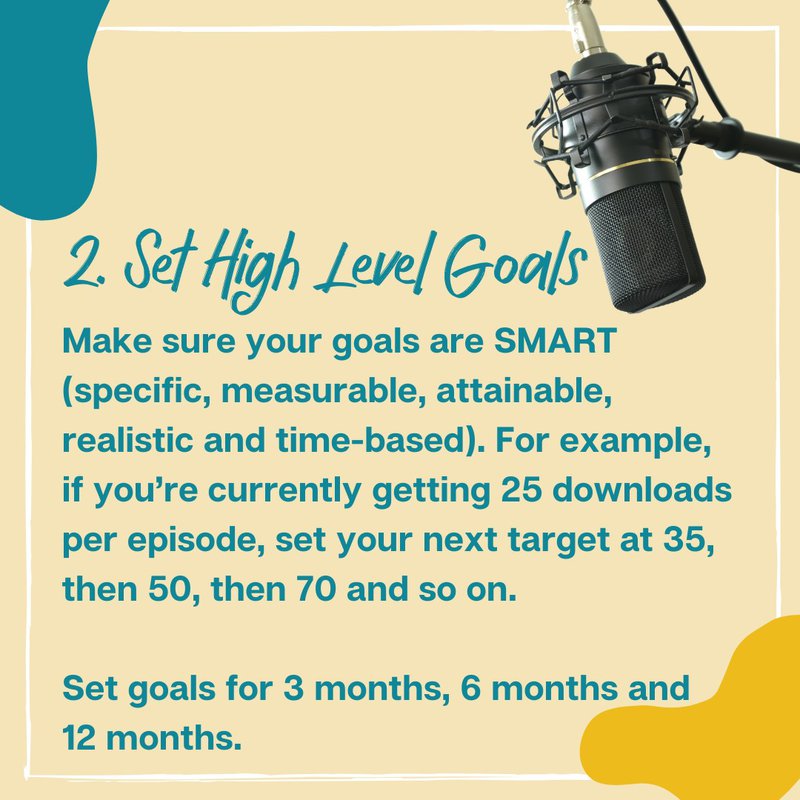 2. Set High Level Goals
Make sure your goals are SMART (specific, measurable, attainable, realistic and time-based). For example, if you're currently getting 25 downloads per episode, set your next target at 35, then 50, then 70 and so on.
Set goals for 3 months, 6 months and 12 months for your podcast. The reason I like to space these out is that if we only set a 1 year goal, it would become cumbersome and boring to try to achieve. Plus, it would feel totally impossible, because it's so far away. Setting milestone goals allows you to experience lots of success throughout the year!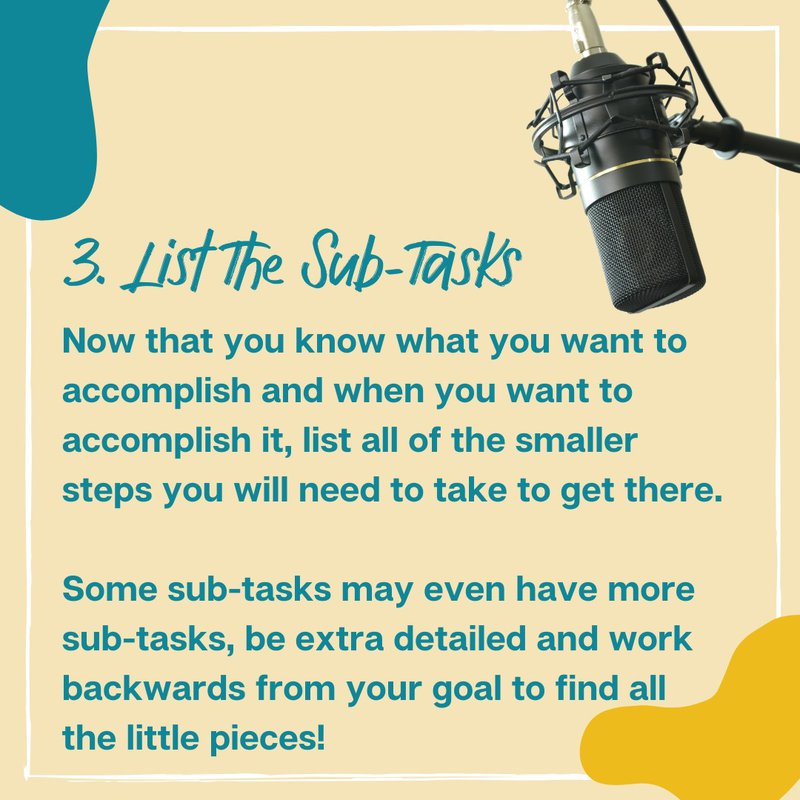 3. List The Sub-Tasks
Now that you know what you want to accomplish and when you want to accomplish it, list all of the smaller steps you will need to take to get there.
Some sub-tasks may even have more sub-tasks, be extra detailed and work backwards from your goal to find all the little pieces! By reverse-engineering your plan, you'll be able to see exactly how much time and effort will be required to accomplish these goals.
Seriously, don't skip this step! As my pal Melissa Houston says, a goal without a plan is just a wish!
Now you have a plan of action to accomplish your podcast goals in 2021! Comment below with your goals and save this post to check in throughout the year!