It's time for Five Essential Pieces Of Content That Must Be On Your Site: Part 3! Now we're going to make a super detailed contact form – a.k.a. an onboarding questionnaire! YEAH BABEEE! If you need a quick refresh on parts 1 and 2 before we jump in here, I have linked those. In the text. I am writing a blog post with my typing and brain skills. OH MY GOSH EMILY JUST GIVE THE PEOPLE WHAT THEY CAME HERE FOR.
You know how you have a specific customer in mind that you love working with, but the customers you attract don't really fit the mold? Here's a very very very VERY simple way to get more of your ideal clients before you have to worry about the sales pitch!
Presenting: The Mega Amazing Super Great Onboarding Questionnaire!
I'm tellin' ya, you haven't LIVED until you started using an onboarding questionnaire! I know that screening potential clients might seem incredibly daunting to those of you who are in the midst of starting your business. Here's the thing though – the more you work with lots of different of clients, the more you're going to realize who you don't want to work with, and the easier it will be to want to put an onboarding questionnaire/contact form on your website.
Why Is This So Important?
We talk a lot about burnout on The Ultimate Creative and for good reason – we're all doing so many things! One very simple way to help you to prevent burnout is to say no. But how can you say no if you need the money and the client seems ok from the sales call?
Yeah, I know, I've been there. Honestly it took me years to accept the fact that an onboarding questionnaire like this wouldn't just totally send all of my potential paying customers packing. In fact, it's just going to bring the right ones to you faster.
Clients Love Clarity.
We talked about this a lot in parts 1 and 2 of this series – defining a clear mission and giving potential customers a clear path to follow on your services page. They want to know right away if you're going to be a good fit for their personalities as well, and they want to know what to expect in terms of budget and time commitment.
Ok, I Will Try This. For You, Emily.
On my onboarding questionnaires (yes, I have multiples – check out my services page and click both of the buttons at the bottom!) I include specific questions about the following:
Contact Info (duh)
A website where I can check out their current marketing
A quick rundown of their business (who do you serve? what are your offerings?)
How long they've been in business (I'm looking for business owners that have been established for a year or more)
What type of service they are looking for followed by;
The budget question: "Do you have a minimum budget of $x to get started?"
Whether or not they're committed to a minimum of 6 months working together on subscription-based services (it's really not worth it to do anything less than 6 months!)
Their ideal working style (it's important to list the qualities you don't like here as well, but make sure you're phrasing it positively! i.e. "I want to use expert services to execute on my specific vision, I know what I want and I need help to make it happen!" – This doesn't work for me because I love to collaborate, but I am 100% the person that would check off this box!)
A quick rundown of their vision (is it clear or is it totally muddled?)
Questions they might have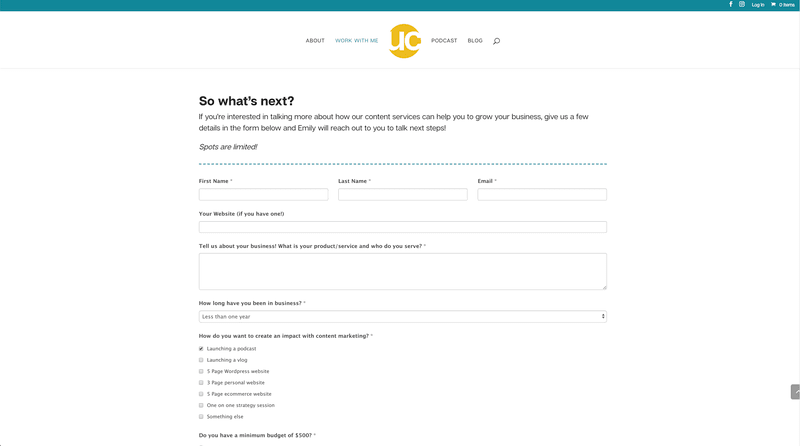 Now you've given both your customer and yourself the opportunity to think about whether or not this is a good fit. You've given them clear direction which means they can trust you even more, because you obviously know how to get shit done.
Now it's your turn! Steal this onboarding questionnaire!
You can totally rip off my onboarding questionnaires right here and I will not even for a second worry about it. Because I love you and I want you to succeed. IT'S TRUE! OMG!
I want to see your onboarding questionnaires too! Drop a link in the comments!