Alright here's the deal. Everyone and their mother has advice on what should go on your website. So instead of giving you the most generic examples of content that should be on your site, over the next few posts I'm going be giving you my top five "Emily Milling approved" pieces of content that absolutely must be on your website. WOO!
A Clear Mission Statement
The easiest way to confuse visitors to your site is to give them 800 different kinds of services and products and resources. I learned this the hard way last week while I was redesigning some pages and cutting out some service offerings, trying to zero in on my customer persona and who I serve.
Right now (because without a doubt I will change my website again and again) my mission statement appears in my home page intro: "my goal is to share everything I know about content marketing with you!"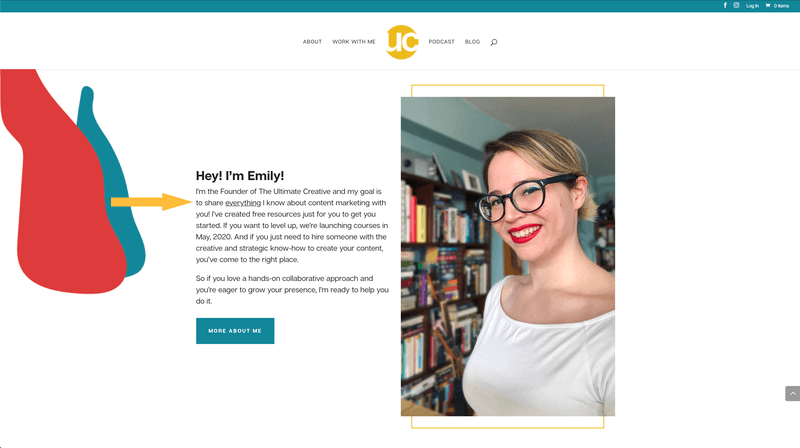 That's it! Clear, straightforward, simple. This messaging also needs to be very consistent throughout your site, so on my About page I reiterate the sentiment again: "I have decided that it's time to share what I've learned with YOU so that YOU can do everything you want to do too!"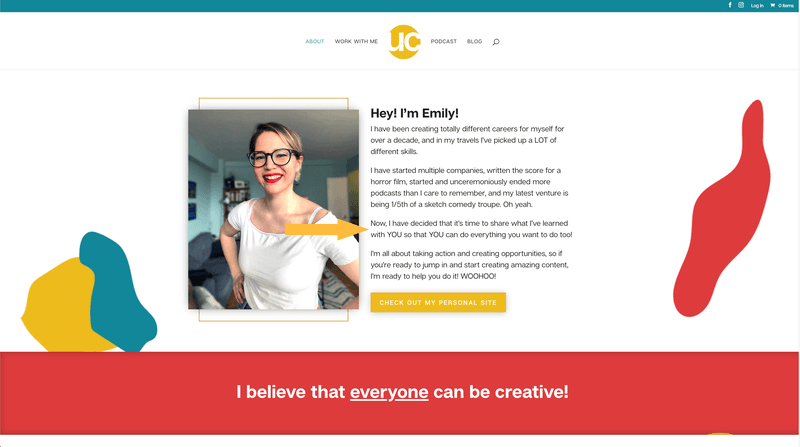 This Will Keep Your Audience And YOU On Track.
Aside from the fact that this practice will keep your visitors and potential customers on track with what you do, it's going to keep your business on track as well.
Full transparency this is my BIGGEST challenge with my business(es). I always want to be everything to everyone but it just doesn't work when you're trying to attract an audience. Well, I mean it can work, but you will absolutely burn yourself out (see my post on managing your multi-hyphen career, amiright?)
What do you want to be known for in 5 years?
If you're having difficulty establishing your clear mission statement, take some advice from my business coach Lianne Kim. She always asks "what do you want to be known for in 5 years?"
Answering this question was SO hard for me at first until I realized that I don't want to be known as the woman who drops everything to take care of other people's needs, I want to be known as the woman who shows you how to do it all (it being content marketing in this case).
But here's the thing. Now that I've clearly stated this on my website I'm MUCH more accountable to the fact that I want to give other people a leg up with their online presence. I'm also realizing that I don't need to chase down leads that have absolutely nothing to do with content marketing or being remotely creative.
Now It's Your Turn!
What is your mission? It could be anything from "I write hilarious sketch comedy to make people laugh and forget about their problems" to "I create beautiful illustrations that give brands a competitive edge!"
I want to hear what your mission is! Let's turn it into a content driver for your website! Send me your mission statement in the comments below and I'll help you shape it!